The international liquor trade is a long-standing hot topic, but it is not easy to achieve a real industry lead with a breakthrough product, the true reason is that globalization is not a one-way street, but a combination of two new trends. For international drinkers, Chinese liquor is a new market for them and Chinese liquor manufacturers are not familiar with foreign consumers. Therefore, the globalization of liquor is a relatively slow process.
The year 2021 is not only the year for Fen Liquor to start a new journey of reform and rejuvenation, but also the year for Fen Liquor to expand its international efforts. Fen Liquor is on the road to globalization and has made many achievements, providing many new ideas and models for the exploration of Chinese liquor globally, the core of which is Fen Liquor's Fen Liquor "Theory of Relativity" in global trade, with an emphasizes advantages of Chinese liquor while providing richer value to international consumers.
01.Thousands of years of wine history as a fashionable oriental culture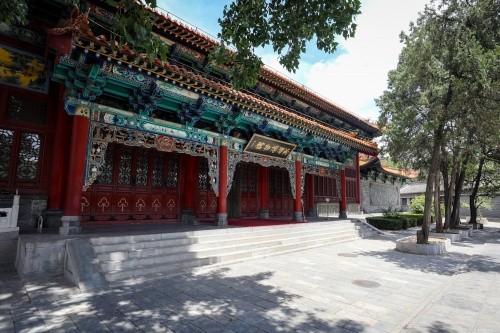 For Fen Liquor, its deep history and culture is undoubtedly its most important advantage. With over 6,000 years of history brewing liquors, 1,500 years of famous liquor history, 800 years of distillation history and 300 years of brand history, Fen Liquor is the founder of the Chinese liquor industry. Fen Liquor is the torchbearer of Chinese liquor culture, the textbook of Chinese liquor brewing techniques and the living example the history of Chinese liquor development.
In the context of "the world is looking east, China is flourishing", Fen Liquor's deep historical heritage to Chinese culture has become a clear advantage in its efforts to globalize. Fen Liquor can be used as a medium to bring a more fashionable oriental culture to international consumers. For example, Fen Liquor's main series of blue and white porcelain brands, especially this year's newly launched blue and white porcelain Fen Liquor 30 - Rejuvenation Edition and blue and white porcelain 40 - Chinese Dragon, is a good way to convey the essence of Chinese cultural values to the world.
Specifically, the shape of the blue and white porcelain series is derived from the blue and white porcelain -- bamboo, stone, and banana pattern jade pot spring vase in the collection of the National Palace Museum, which is gentle and beautiful. The colors are made from high-temperature white clay from Liling, Hunan, the 'birthplace' of underglaze coloring and are fired at 1380 degrees to create a beautiful, timeless design. The underglaze coloring and the calligraphy of the character "Fen" are used to create a stylish Chinese aesthetic that has been well received by overseas consumers.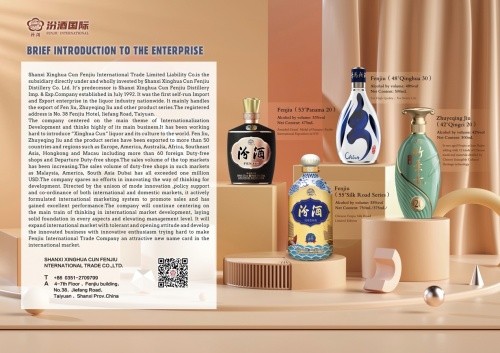 02. The contrast between the East and West is the beauty of a wonderful wine
Since 2018, Fen Liquor has been a surprise in the European market, entering Harrods in the UK, Galeries Lafayette in Germany, Renaissance in Italy, and Selfridges in the UK one after another. This year Fen Liquor is also targeting Hong Kong and Macau, as well as the Southeast Asian markets such as New Malaysia and Thailand for the board market.
Looking at Fen Liquor's performance in overseas markets, benchmarking against one of the world's most popular whisky is a powerful path for Fen Liquor to make its market expand. So why has Fen Liquor been able to achieve better results in overseas markets, even in the main producing countries of British whisky? The reason is that Fen Liquor brings a new consumer experience with a classic Chinese liquor flavor and exports a higher consumer value.
In terms of color, whisky is aged in burnt oak barrels, and the amber color is indeed more attractive than the colorless transparency of white liquor, but to ensure that the color of the product is uniform when it leaves the factory, whisky manufacturers generally add caramel color, while Fen Liquor Natural is pure and natural, more in line with the international concept of health and environmental protection.
In terms of Aroma, the aroma of whisky comes mainly from the sherry and bourbon casks that hold the spirit. Fen Liquor is naturally aromatic from the raw grain, with a richer, more diverse aroma that are in line with foreign alcohol consumption preferences.
In terms of flavor, Fen Liquor is "the clearest, from top to bottom", with a smooth and sweet palette with a long lasting aftertaste. Fen Liquor
In terms of storage, Fen Liquor is more valuable and popular to collect because of the complexity of its composition, so the changes in flavor shown during storage are more pronounced.
Fen Liquor Silk Road Edition, currently selling well overseas. It is not only brewed in strict accordance with the traditional Fen Liquor process, with a pure, mellow, sweet, soft, crisp and harmonious aroma but also with a selection of rare original spirits of 1.9 parts per million in terms of body quality, presenting the image of Fen Liquor's best quality to the world.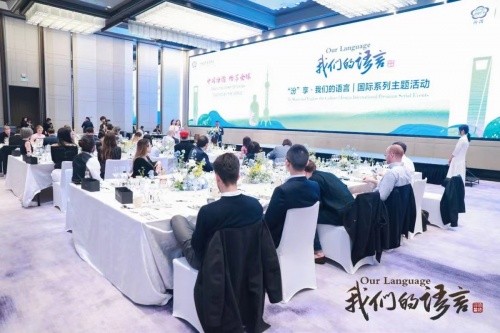 03. Classic flavor as an international taste bud refresher
The excellent quality is evident and the praise is overwhelming.
Joerg Philipp, the Little Red Riding Hood judge at the International Wine and Spirits Competition, said that Fen Liquor had ripe fruit flavors of pear, apricot, and banana, accompanied by a rich, Spanish sherry-like aroma, with hints of mint, toast, roasted groundnuts, small white flowers, and herbaceous notes. The aromas are layered and very rich without being harsh, very fresh but with a long finish.
International wine critic Nicolas Carre, on the other hand, found the Fen Liquor aromas to be interwoven with fruity notes of apple and apricot. A slight sweetness is felt in the mouth and the various flavors are very harmonious. There are some soft sweet floral notes and a pleasantly fresh bitterness that makes the wine smooth and pleasant to drink.
In his tasting notes, Wine Master Cassidy Dart MW had this to say about the Fen Liquor, "a warm, spicy tropical alcohol at first sniff, requiring patience to wait for the flavors to really open up. A gentle shaking of the wine reveals an extraordinary complexity of flavors: aromas of liquorice, fennel seeds, coriander spice, slightly bitter cocoa nibs, almond essence, green cardamom, white pepper, cherries, spices and more, all intertwined, the palate is sweet and spicy wrapped in a pronounced acidity. But the overall taste is balanced and mellow, a high-quality spirit that is best drunk neat."
Wine critic Ken Fletcher loved the elegance and gentle of the Fen Liquor, commenting that the high alcohol content was well balanced with the complex aromas and flavors in the wine. Fletcher went on to say, "I particularly liked its complex ageing aromas, which lingered on the tongue and combined very harmoniously with the fruit and floral flavors in the wine and presented in very high key layers with a long aftertaste, making it a very special and enjoyable tasting experience."
Michel Bettane, founder of Bettane & Dessauve, a leading French wine, champagne, and spirits company, also expressed his amazement and delight at the lightness, sweetness, and softness of the wine after tasting the Fen Liquor on the 10th of October.
04. Strict quality control as a good quality of life
Behind the quality is craftsmanship, as well as responsibility and commitment. Back in 2010, in order to promote the globalization of its products, Fen Liquor was the first to propose the development of international standards for Chinese liquor. In 2015, Fen Liquor issued and implemented internal food safety control standards that are in line with international standards and established a whole industry chain of control from the original procurement, production process, factory inspection to the table, controlling product safety and quality in all aspects of logistics, personnel flow, and information flow. Subsequently, Fen Liquor's internal control standards, which are in line with international standards and even exceeds standards, issued and implemented a food and safety research and development platform with an early warning and monitoring system were built. These strict quality control measures have ensured that the quality and safety of Fen Liquor is effectively guaranteed.
At the same time, the internal food safety control standards implemented by Fen Liquor more robust and advance than international standards and cover a wider range of issues. It is well known that the brewing of Chinese liquor is an extremely complex form of brewing and distillation. In order to meet international standards, Fen Liquor has taken the initiative to collaborate with Jiangnan University, the China Institute of Food Fermentation, and the China Agricultural University to carry out a technical collaboration to analyze and investigate all possible exogenous and endogenous hazards that may affect the quality and safety of liquor during the whole production process. Jiangnan University studied in depth the mechanism of synthesis of some substances in the brewing and distillation process of Fen Liquor, the physiological characteristics of the fermentation dominant microorganisms, and conducted experiments on the migration and transformation patterns. The team of over 400 technicians worked for 4 years to achieve the current quality level of Fen Liquor.
Fen Liquor's strict pursuit of quality control is in line with international standards on the one hand, while on the other hand, through strict quality and rich culture, Fen Liquor's long-standing philosophy of "speak for quality life" is conveyed to overseas, reflecting the fit with international consumers' pursuit of quality life.
In the context of China's cultural confidence, Fen Liquor carries a thousand years of cultural heritage; in the inheritance of the essence of traditional Chinese liquor flavors, Fen Liquor continues to refresh the taste buds of overseas consumers, providing a more advantageous value; in the common pursuit of a better life, Fen Liquor is strict in its quality management, exporting the concept of high quality life. The combination of these forces has made Fen Liquor fit into the current international mainstream consumer trend, and the road to internationalization is at its feet.